1 CopyCD
Creates .iso files and copies CDs, DVDs or BluRays.
It is the first choice when creating 30 photo CDs for the guests of the last family celebration.
CopyCd is easy to use, without ad-ware and free.
CopyCD does not copy protected movie DVDs.
Screenshot: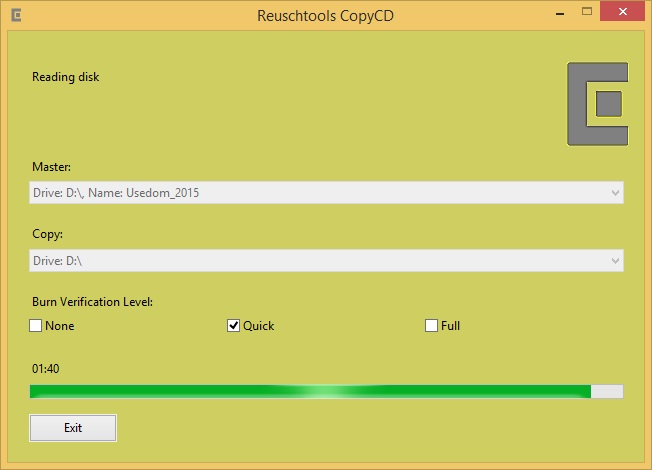 2 Download
CopyCD runs on all Windows® systems from XP to Windows® 11.
Installer and program files are digitally signed. Name of signer:
Arndt Reusch eK
3 Setup
The Installer automatically selects the 64-Bit Version on 64-Bit Systems.
For Windows® XP and Sever 2003, KB932716 and KB952011 (Feature Pack) are required. These updates can be downloaded for free from Microsoft. Burning CDs on Windows® XP and Sever 2003 requires a user account with administrative rights. Beginning with Vista™ a non administrative user account is sufficient.
To install CopyCD for the current user click on the link above.
To install CopyCD for all users, proceed as follows:
Download the CopyCD installer.
Right click on the installer and select 'Run as administrator'.
4 Features
Multi-copy feature. Create multiple copies of the same disc with a single drive. The user has to wait until a copy is being ejected, remove it and insert a blank disc into the drive. Everything else is done by the software. A counter on the screen indicates how many copies were made.
Copies the contents of a folder (eg. photo collection) directly onto a CD, DVD or a BluRay disc.
Discs can be backed up to a folder or an ISO file and recopied to a blank disc later.
Copy the content of a folder into an ISO file of any size, only limited by the size of the hard disc. This may be usfull to protect a collection of photos from being modified. Beginning with Windows® 8, ISO files can be opened like CD drives.
CopyCD is made with the approved Reuschtoos program sources. The software is thus small and reliable and at the same time independent of .NET and other secondary libraries. The installation of CopyCD takes less than 1 second.
5 Start CopyCD
Start CopyCD from the Start Menu or with a right click on the CD drive.
Hit F1 to open this help page!
6 Audio-CD, CDFS, UDF, Multisession
are file formats for optical discs. When copying a disc the file format of the master is usually inherited. Although it is possible to copy a CD onto a DVD media and vice verse, as long as the content fits onto the CD. Keep in mind that CD players can not read DVD discs.
6.1 Audio-CD
Used by commercial music CDs.
Can contain up to 80 minutes of music.
Audio-CDs do not have a label or a directory. They are shown as CDFS with 0 bytes of memory in Windows Explorer. The content of an Audio-CD can not be displayed by the Windows® Explorer.
CopyCD can store the content of Audio-CDs in a folder. All tracks will have the .wav format.
If a folder contains only .wav files, CopyCD will burn it as Audio-CD.
6.2 CDFS
Can be read by modern CD players.
A CD can contain up to 6 hours of music with very good sound quality. This is possible by the use of the .mp3 compression.
Can contain folders, music or data files. CD players select .mp3 and .wav to play.
6.3 UDF
Usually used by DVDs and BluRays.
CopyCD selects UDF if the content of a folder does not fit onto a CD.
CD players can not read this format.
6.4 Multisession
Can be handled like a USB flash drive.
Not write protected.
Can not be copied with normal burning programs, CopyCD does it.
CD players can not read this format, but a copy created with CopyCD will be readable.
In addition, there is a mixed format of Audio-CD and CDFS. A CD can contain audio tracks for old CD players and data files for PCs. This format is not supported by CopyCD. It is rarely used because many CD players can read CDFS today.
7 Support
This email address is being protected from spambots. You need JavaScript enabled to view it.
8 DVD or CD
If your data fits onto a CD, you can decide for a blank CD or a blank DVD:
Blank CDs are less expensive.
DVDs are about twice as fast to read, write and copy.
If long-term data safety is an issue, you should consider the use of M-DISC blanks.
9 ISO Files
Windows® Vista™ and older Windows® versions need to create a stash file before writing the final ISO file. The stash file is as large as the future ISO file, it is created in the temporary directory or on a drive with free space. During the creation of the stash file, the process can not be canceled and there will be no progress bar. Starting with Windows® 7 the stash file is no longer required and creating an ISO file takes less time.
10 Attention!
Do not push the drawer into the CD drive to insert a disc. The drive will get broken. Press the button instead.